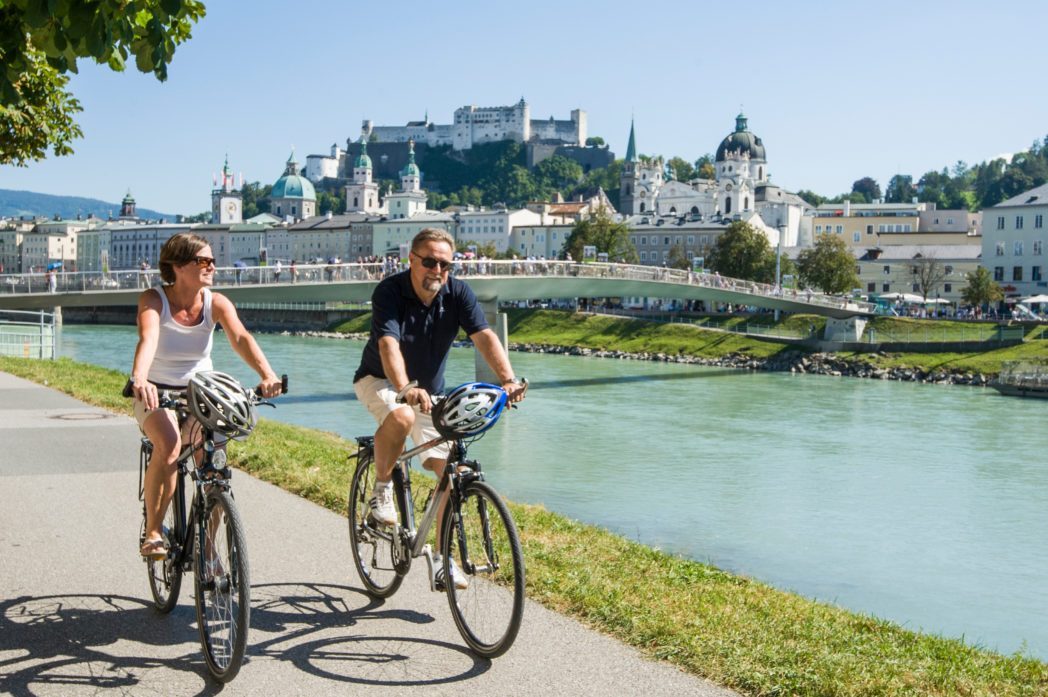 impressive place to grow your future
Living and working in Salzburg
Life in Salzburg offers a lot. The combination of city life with nearby country life, the varied nature with recreational and activity opportunities, and the cultural diversity attract many.
For those who want it all
From the flat Alpine foothills to the highest mountain, the Großvenediger mit 3,657 m, from thermal spas to ski slopes – the leisure factor is high. In addition, Salzburg, like all of Austria, can boast political and social stability, security, and a freely accessible and high-quality education and healthcare system. You can choose: Living in the city of Salzburg – a small, but also cosmopolitan city that perfectly combines urban flair with closeness to nature. Or in the beautiful Salzburger Land, where a wide range of leisure activities are available virtually from the front door.
There are many, many good reasons that make Salzburg the ideal place to live, study, research and work!
Guide Living and working in Salzburg
Download now for free.
Mobility
Short and uncomplicated is the motto in Salzburg when it comes to mobility. Both the city and the province have a well-developed public bus, S-Bahn and regional rail network. More than 40 million people use public transportation every year. Many Salzburger:innen also rely on bicycles – the very well-developed bicycle network and the short distances make this possible. Business and private trips abroad are easy with Salzburg Airport, which is only a short distance from the city and therefore easy to reach.
Culture
Salzburg's art and cultural life is in season all year round and delights visitors from all over the world. But not only the fans of classical music get their money's worth in Salzburg. It is true that the high-class Salzburg Festival and Mozart have made their mark for centuries. But modern art also has its fixed place in Salzburg. The Museum der Moderne (mumok), the largest museum of modern art in Europe, showcases national and international avant-garde art. Those who prefer to indulge in the performing arts are also in the right place in Salzburg: venues such as ARGE Kultur, SZENE Salzburg and Kleines Theater provide a stage for the strong theater and dance scene in Salzburg.
Away from high culture, the state offers plenty of living customs – from the Krampuslauf to Rupertikirtag – and from concerts in the Rockhouse to the Electric Love Festival, its event & culture scene is worth seeing and hearing.
Keen to learn more about living and working in Salzburg?
Send us an email – we look forward to hearing from you.