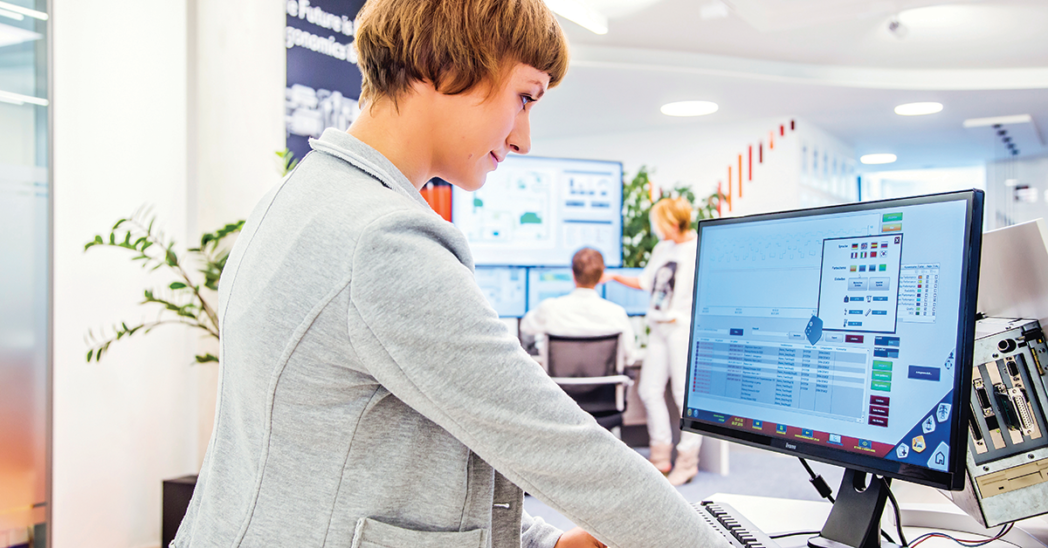 31. May 2022
Fancy a new job? These IT companies in Salzburg are looking for you!
You have IT skills? You want to live and work in Salzburg? Wonderful! There are many IT companies in Salzburg looking for IT professionals. Large corporations, small family businesses or hidden champions – Salzburg has it all. So that you don't have to spend a long time looking for the right employer in Salzburg, we have an overview for you here!
eurofunk KAPPACHER
Company headquarters: St. Johann im Pongau and Salzburg City
Company size: > 500 employees
eurofunk KAPPACHER develops fully integrated solutions for control centers and emergency call centers, such as for the police or fire department. This includes the software of the command center, communication solutions as well as the design of the control room. The technologies of eurofunk KAPPACHER help to handle emergency calls better, faster and more efficiently. The company employs IT staff in software development, IT engineering, project management, support and many more. Trainees and apprentices are also trained.
They can either work in the countryside in Sankt Johann im Pongau, surrounded by mountains, or in the city of Salzburg with urban infrastructure in modern offices. There are many benefits for employees. Athletes can let off steam in the workout zone, gamers in the gaming zone. For international professionals, there is a regulars' table and a buddy program to help them quickly make friends in their new home.
Your contact person ist: Christina David
Commend International GmbH
Company headquarters: Salzburg City
Company size: > 500 employees worldwide, 210 of them in Salzburg
Where telephone, mobile phone and Internet as means of communication reach their limits, Intercom begins. Transmitting voice, data and images with absolute reliability, even in unclear locations and under adverse conditions, is the important – sometimes life-saving – task to which the specialists at Commend, the world market leader in intercom, have dedicated themselves. The solutions are used in car parks, hospitals, airports, industry and tunnels, for example.
Commend is active in over 59 countries. The solutions are developed and produced at the company headquarters in Salzburg. At Commend, specialists from different nations work on the development of hardware and software for high-quality intercom solutions, from the idea to the finished product. Employees benefit from flexible working hours and home office options. The open and international company culture makes it easier for foreign specialists to join the company.
Your contact person is: Sonja Dank
COPA-DATA
Company headquarters: Salzburg City
Company size: > 300 employees worldwide, almost 200 of them in Salzburg.
COPA-DATA creates automation software for industry. The internationally successful company thus digitalises manufacturing and energy operations. The zenon software is used in more than 100 countries.
The software developer offers IT jobs in many areas, such as software development, UX design, project management and customer service. Internships and apprenticeships are offered for pupils and students. COPA-DATA employs 25 nationalities with 23 mother tongues, so foreign professionals are very welcome. With flexible working time models, employees are also supported in their individual family situations. A company pension scheme also provides for the future. Flat hierarchies and teamwork characterise the company culture. For team cohesion, there are joint experiences such as sports challenges.
Your contact person is: Martin Binder
conova communications
Company headquarters: Salzburg City
Company size: > 90 employees in Salzburg
conova is the largest data centre operator in the region and offers its customers highly available, secure and customised IT services. These are delivered from conova's own data centres as well as in combination with hybrid cloud solutions. Housing, hosting, full outsourcing as well as cloud and managed services are among the core competencies.
conova employs IT staff in the areas of Microsoft & Datacenter, Linux & Open Technology as well as Network & IT Security Solutions. The numerous benefits include flexible working hours, the possibility of a home office with the appropriate equipment, German courses for employees who speak foreign languages, a weekly sports course and employee events.
Your contact person is: Andrea Reiter
Findologic
Company headquarters: Salzburg City
Company size: 55 employees, approx. 40 of them in Salzburg
Findologic develops smart assistance solutions for online stores using artificial intelligence. These solutions help online shoppers to find the product they are looking for faster and thus increase the conversion rate of the stores. Over 1,000 online stores already rely on FIndologic's products. In addition to its headquarters in Salzburg, the company also has offices in Munich and London.
Findologic employs software and search engine developers, data scientists, support staff and many more. People from many different nations work here, so the company language is English. For team building, there are regular events, including cross-location events, such as joint barbecues. In the break room, employees can spend their free time playing the latest Playstation games or table soccer, for example. In addition, Findologic offers its employees the opportunity to work from home, a travel allowance and a free lunch Monday.
Your contact person is: Bianca Köpf.
SBS
Company headquarters: Salzburg City
Company size: >100 employees in Austria, Germany and Switzerland, of which approx. 70 in Salzburg
SBS – Salzburger Banken Software – develops software solutions for banks and bank data centers. In doing so, they offer their own vendor-neutral solutions especially for the area of customer self-service and the counter/checkout area in banks. Currently, more than 65,000 ATMs and other self-service terminals in Europe are operated and monitored with software from SBS. SBS is thus the market leader in innovative solutions for the self-service sector in Austria, Germany and Switzerland. In addition to its headquarters in Salzburg, SBS also has offices in Linz and Munich.
The family-owned company employs IT staff in many areas: software and web development, IT project management, IT engineering, network technology, cloud, IT security and many more. Students and pupils are trained with apprenticeships, internships and coding apprenticeships. At SBS, family and collegial interaction is always emphasized. Employees can work flexible hours and work from home. SBS offers a generous budget for personal and professional training and development. Various individual additional benefits such as meal vouchers and job tickets for public transport round off the SBS offer.
Your contact person ist: Franziska Braunwieser.
mtms Solutions
Company headquarters: Eugendorf near Salzburg
Company size: approx. 30 employees
mtms Solutions develops digital solutions for events, especially in the areas of accreditation, ticketing and messaging. Since the Corona pandemic, mtms has also successfully offered Covid-19 security and protection measures, such as digital guest registration via WhatsApp/SMS to automated health queries and COVID-19 test management systems to antigen rapid tests. The globally active company, headquartered in Eugendorf near Salzburg, serves events and large-scale events of all kinds with its services: sporting events, cultural events and congresses.
The event IT specialist employs front-end and back-end developers, system administrators, IT technicians and technical customer and event support staff. Employees can arrange their working hours flexibly and work remotely. Employee events, social benefits and joint activities outside of work strengthen the team spirit at mtms Solutions. Often, employees can also attend events that they supervise themselves. Flat hierarchies and an international team contribute to an excellent working atmosphere at mtms Solutions. Foreign specialists are supported in learning German. However, the German language is not a prerequisite to work at mtms Solutions! Flexible working hours, company cell phones and a family-friendly workplace are standard at mtms.
Your contact person ist: Anita Schinwald.
Axess AG
Company headquarters: Anif near Salzburg
Company size: > 360 employees worldwide
Axess develops access and guest management systems for access in sports, leisure, culture and transport. The company offers everything from a single source: from the hardware (the access gates) and the software for the access system to the production of access tickets. The solutions are used, for example, in ski resorts, stadiums, exhibition centers and tourist attractions.
Axess employs software, hardware and mobile app developers, IT support staff, IT technicians, project managers and many more. Axess is based in Anif, south of the city of Salzburg, and has 21 other offices worldwide. The company scores with modern office buildings, team events, flexible working time models and the possibility for further education. Axess pays attention to a good work-life balance and also to a good working atmosphere. Despite the international orientation with many branches, the hierarchies are flat and there is a positive team spirit. Employees from many nations work at Axess, so specialists from other countries are warmly welcomed.
Your contact person is: Swetlana Kalmutzke
hotelkit
Company headquarters: Salzburg City
Company size: approx. 100 employees
The management of a hotel is a complex matter: reservation systems, purchases for the hotel restaurant, special requests from guests, cleaning procedures – many different actors, processes and communication systems are involved. hotelkit has developed a software that unites the communication, the different teams and workflows on a central platform. The Salzburg-based company thus revolutionises and simplifies internal cooperation and communication in hotels and now also in medical businesses and many other companies.
In addition to its headquarters in Salzburg, hotelkit has locations in Vienna and Dresden. 2.000 companies in over 50 countries are already working daily with hotelkit's solutions. The young technology company employs web developers, UI/UX designers, IT administrators and many more.
hotelkit offers its employees flexible working hours, office sports and team events. Whether in the modern offices or completely remote – the working location can also be chosen flexibly. An international, young team and flat hierarchies characterise the corporate culture – colleagues who do not speak German are therefore welcome! A buddy programme makes it easier for new employees to get started in the company.
Your contact person is: Alexandra Spindler
That's it? Of course not. There are many more IT companies and enterprises whose core business is not IT, but which still need many IT specialists. Stay tuned – we will present more exciting employers soon! For questions about the companies or specific jobs, it is best to contact the company directly.
Your company is still missing in the list?
Send us an email!
Translation by deepl.com